Your sales funnel is one of your lifelines in the online world. It's a crucial aspect of any digital marketing strategy as it stands for the customer journey – it's what turns someone from lead to buyer.
There are multiple stages in a sales funnel, but you can break them down into three big ones – awareness, consideration, and decision. Each stage is essential for the funnel to work. And when you learn to take analytics into account, you'll find that you can always improve the stages of your sales funnel.
To get the most out of it and enhance the customer journey in the process, you'll need to rely on a reputable CRM platform.
It makes funnel management more efficient and easy to understand. Also, it can also boost your data collection while helping with tracking and monitoring activities and trends at every stage.
Simply put, the right CRM software provides a wealth of information – the data you need to optimise your sales funnel.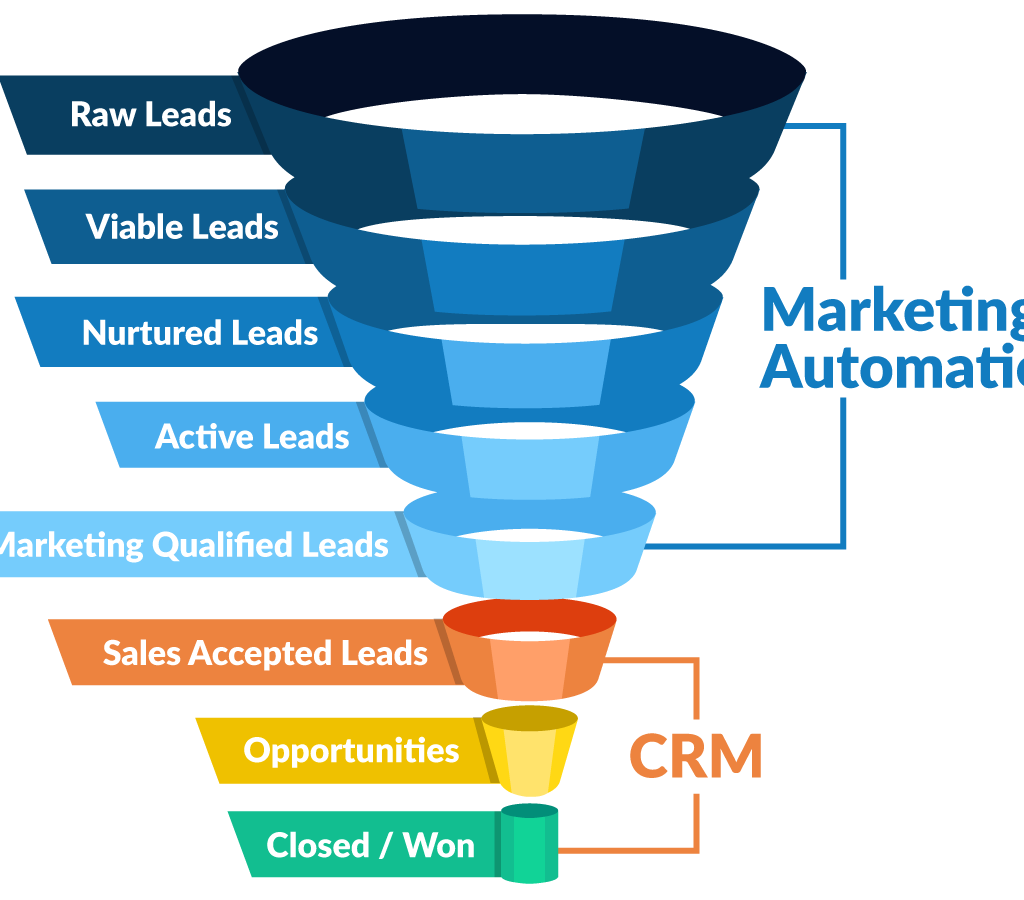 How CRM Software Supports Your Sales Funnel
Manage Your Leads Effectively
It's unlikely that you'll ever build a perfect sales funnel. One of the reasons behind this is that sales funnels need adjusting over time. What's working right now may not work two or three months down the line.
As such, your funnel becomes an exercise in flexibility and agility when facing various challenges. And this means that you have to work consistently on giving your sales team more opportunities to boost the conversion rates.
But how can your CRM software contribute and help you make better decisions?
You can use this software to manage your leads. Also, you can prioritise CRM data that are relevant to your sector and your business.
Imagine being able to sort and target leads that are most likely to eventually buy from you. That means going after your hottest prospects, which is always beneficial to do. After all, targeting hot prospects enables you to get the best returns while maximising your resources. It's even more vital if you're in a competitive market.
Furthermore, efficient lead management can help free up time for you to work on other stages and elements of your funnel.
Monitor Lead Interactions
Whenever you interact with a lead, you're entering discovery conversations. This means your leads are trying to figure you out, and vice versa.
So, what are the things you should consider when interacting with your leads?
To start with, are you probing to find if the prospect has the budget to work with you or make a purchase? Are you trying to identify the primary decision-maker on the other side?
Do you try to determine the value you can offer to your prospect based on your product/service and the benefits it provides?
Whether you're cold calling or communicating via email, these are common discussion topics. You need to get answers to those types of questions.
However, how do you work them into your funnel?
You'll need a way to collect and catalogue answers for lead qualification questions. A good CRM software can do that for you. Sometimes, it can be as simple as tying your email account into the CRM for constant access to conversations.
Once you figure out why you can't qualify specific leads, use the data to improve the process.
Perhaps your scoring isn't on point or you're not using the best lead sources. Either way, you can use CRM to collect data necessary for optimising lead interactions, thus strengthening your sales funnel.
Unlock Upselling Opportunities
Sometimes, the fastest growing businesses rely on upsells for a considerable chunk of their revenue. So, if you want to enter an accelerated growth phase and sustain it, upselling should be a priority.
Now, what's the challenge with upselling?
You can't do it if you don't have the right product or service. But the more significant issue is getting enough customer data.
CRM software collects and gives you information regarding purchase history.
Keep in mind that this is also data relevant to your niche and company. A sales agent can extrapolate and determine the most likely purchases per customer or group of customers using CRM software.
But it's not all about finding new upselling opportunities – CRM helps bridge the gap, too. When you can identify recent sales, you can leverage the data to follow up and offer upsells.
Think about all the suggestions you get when filling up a cart or after buying something – accessories, warranties, higher-end products in the same category, etc.
Upselling is a practice that can quickly impact your business's bottom line for the better.
And it's worth noting that it can foster loyalty. Customers see the extra attention to detail and often feel like you're looking out for them. You're trying to anticipate their needs and save them some time and money.
Focus on the Most Profitable Customers
A relevant CRM contains valuable data. Since it monitors trends, interactions, and activities, it can give insight into a customer's behaviour.
That essentially means you can understand the money trail in your business. As a result, you'll identify your profitable and less profitable customers/leads.
It can fix a big challenge that stands in your way of increasing revenue – spreading your focus too thin.
If you know who's unlikely to convert or return, why focus resources in that direction? Use those resources to target loyal customers or your hottest prospects instead. That's how you can optimise your sales process.
Automate Mundane Tasks
Did you know that a sales funnel can be a long journey for a customer? Depending on your space or target audience, you may have to set aside plenty of time to work on things.
The fact is, sales funnels require plenty of mundane tasks. Think along the lines of entering data by hand.
To avoid wasting time and have enough energy to focus on more important things instead, try to automate more of the funnel.
Here's an example.
Imagine having to create new tasks every single time you put a new contact in your CRM. All those administrative activities can be automated within the CRM.
If you think about it, a CRM can level the playing field for small businesses – having a small team may no longer stand in your way of identifying opportunities, getting the job done, and managing contracts or reports.
Also, certain logistical tasks are mundane tasks in particular industries. The good news is that CRM automation takes some of the load off your shoulders and frees you to focus on nurturing relationships with prospects.
Understanding and Tracking Stages
Your sales funnel may need to follow a blueprint that's specific to your industry. But you'll always have those three big categories mentioned early on in this article – awareness, consideration, decision.
If you lack experience in building sales funnels, you may not always know where your prospects are in the funnel. Fortunately, your CRM software can provide the data you need to identify every stage in the process and what you need to do for better results.
It's worth mentioning that a HubSpot survey uncovered that up to 60% of customers want to talk to a sales rep during the consideration stage.
If you don't act fast enough, that prospect may lose interest and pick one of your competitors. But on the other end of the spectrum, moving too quickly can alienate a prospect.
This is why CRM software is vital to building an efficient sales funnel. It identifies the position in the buying process for sales reps. The data then helps the reps to make informed decisions on when to act.
Real-Time Performance Monitoring
Since you can't automate your entire sales funnel, you'll have to rely on certain roles in your business to get particular jobs done. Also, your team also influences the overall efficiency of the funnel. That's why you'll want them to be operating at peak performance.
If you want to stay on top of your team, setting up your company's CRM software is crucial.
You can use the data from a real-time dashboard to stay up to date on everybody's progress. Look up the various tactics that your team uses to convert leads. Some may work admirably, while others aren't and are slowing down your pipeline.
Once you spot issues, you can work out solutions and quickly implement them to get back on track with your funnel and hit your targets.
Look at it as a way of measuring results. You can see everything that happened from A to B to C and so on to get an outcome. You'll also find challenges along the way, patterns, and repeating bottlenecks. The data can also prove helpful in extrapolating solutions.
Crucial Software for Business Growth
Today's business environment is not only competitive but very much data-driven. And as a business leader, you're expected to make the most informed decisions possible to ensure stability and spark growth.
But too many small businesses continue to rely on an unhealthy amount of guesswork. They do it particularly when it comes to leads and customers.
When you have access to so much valuable data, why not use it to your advantage?
The likely reason you're not doing so is that you don't have the right CRM software in place.
The combination of automation, data collection, and management features create a powerful tool in the form of CRM. With it, you can qualify and nurture leads until you turn them into your loyal customers. Furthermore, you'll never have to worry about not spotting any sales funnel hiccups or possible improvements.
Take away some of the pressure by automating some administrative and logistical hands-on processes. Tie in your sales and marketing data to allow for better forecasting.
Most importantly, set up your CRM software to notify you of the right time to follow up with an upselling opportunity for your customers.
Need CRM Software or Marketing Automation for your business? Get in touch today and see how we can help.