Companies with mature lead generation processes enjoy 133% more revenue than others. Nurturing your leads could boost sales by 50%, too. Meanwhile, about 80% of marketers worldwide are focusing on generating high-quality leads.
It's not enough to have a general lead generation strategy anymore, though. Instead, you can build a demand for your product or service.
Here are five demand generation strategies that can help you get started. With these tips, you can close the divide between marketing and sales. You can find high-quality leads that are most likely to become paying customers.
With a strong demand generation strategy, you can drive sales and demand for your business. Get started with these tips today. 
1. Create Informational & Educational Content
If you want to build a demand for your product or service, start by creating helpful, informative content for your customers. Think educate, not sell.
First, gather keyword research. What questions are your customers asking online? What problems are they experiencing that you can solve?
You can gather keyword research using tools like:
SEMRush
Ahrefs
Answer the Public
Keyword Planner
Google Trends
Google Search
You'll use your keyword research throughout the rest of these demand generation strategies.
Start creating high-quality, unique content that solves the problems your customers are facing. Show them how your product or service can meet their needs.
As you start creating your content, consider proof point content as well. For example, you can use case studies or customer testimonials. Social proof can help build your credibility.
You can also build your credibility by establishing EAT (expertise, authority, trustworthiness) within your content. Make sure you're sharing helpful tips consumers can't find anywhere else.
Consider guest blogging. You can create content for someone else's website, then direct readers to your site. Guest blogging will help you boost awareness, traffic, and leads.
Share a Free Report
As you show consumers the problem you want to solve, make sure you have quantitative data to back up any claims you make. For example, you can share statistics, infographics, or free reports. Consumers will recognize the value you can offer.
Providing free reports is also a great way to create a lead magnet on your site.
Offer a Free Tool
As part of your demand generation marketing strategy, it's important to identify a product-market fit. You can use your content to learn more about your target audience. Then, you can use the information you gather to improve your content to generate further interest.
For example, you can offer your target audience a helpful, free tool. Some businesses offer calculators. A marketing agency might offer a backlink checker for search engine optimization.
2. Create Lead Magnets
As you start using these demand generation strategies, make sure you offer consumers opportunities to become leads. Create lead magnets on your website to convert visitors.
For example, you can offer consumers a helpful, free eBook. Encourage them to fill out a form with their email to receive the PDF.
You can also use chatbots, pop-up forms, and other lead magnets across your site.
As you add lead magnets to your site, make sure your website is fast and mobile-optimized, too. Otherwise, visitors might leave without converting. You can work with an experienced B2B demand generation agency to get started.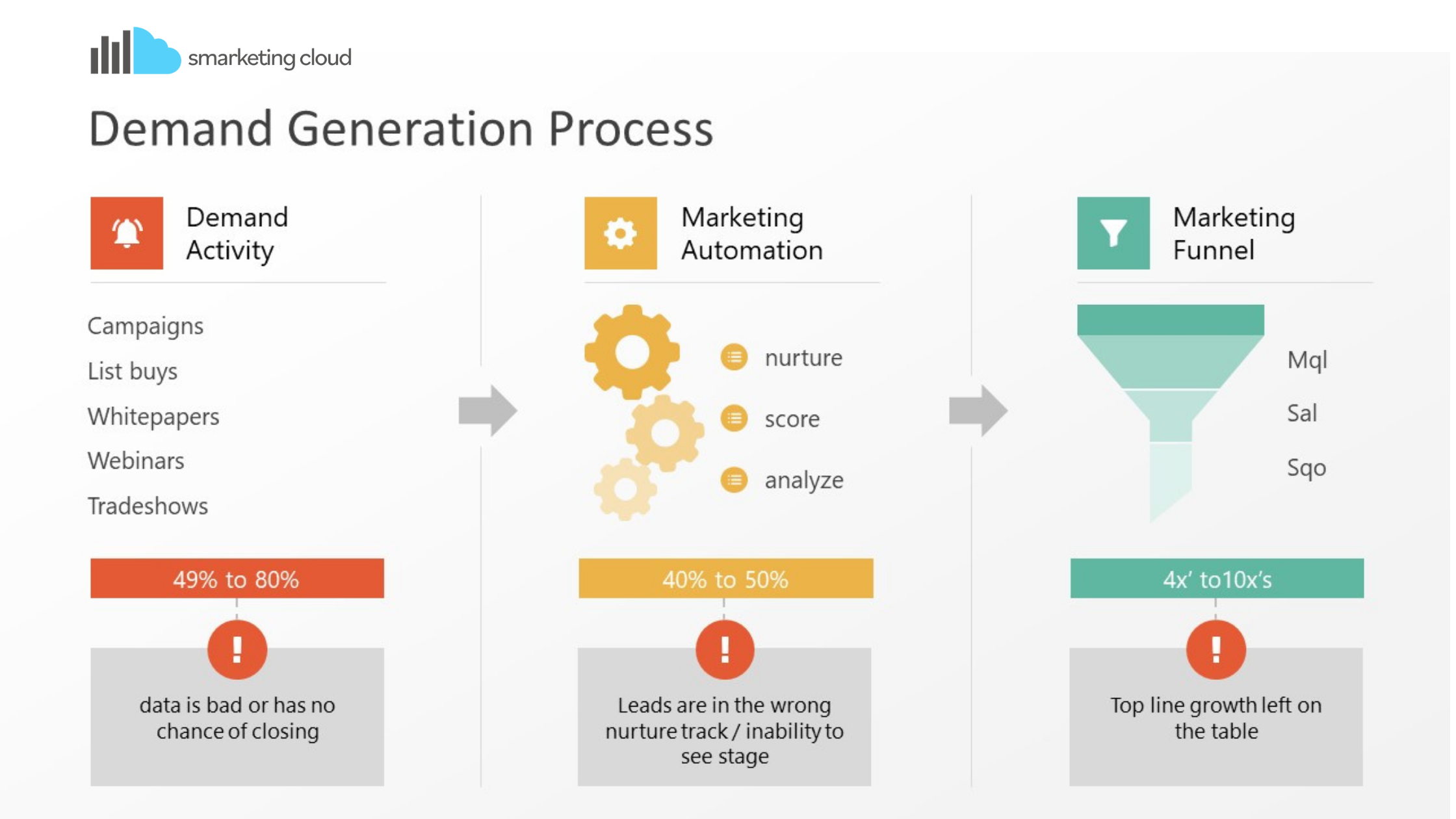 3. Keep Generating Brand Awareness
Before using demand generation marketing, take a look at your brand. Make sure your brand is unique and distinct. Otherwise, you might struggle to generate brand awareness.
It can take over 5 impressions before consumers even become aware your business exists. If you're not generating brand awareness, you won't remain top-of-mind. You could struggle to build a demand for your offerings as a result.
Instead, work with an experienced B2B demand generation agency and discuss your branding. Your brand includes your:
Unique value proposition
Mission statement
Vision statement
Logo
Font styles
Color palette
Imagery styles
A unique brand can help you stand out from competing businesses. Consumers will have an easier time recognizing your business, too. The next time they need your product or service, they'll recall seeing your brand.
Focus on your unique value proposition when building your brand. What can you offer that consumers can't find anywhere else? Focusing on your value could help you build a demand for your offerings.
As part of your demand generation strategy, it's important to build brand awareness and recognition. In time, you can start retaining long-term, loyal customers, too. In fact, a loyal customer is worth 10 single-purchase customers.
Even improving your retention rate by 2% could lower costs by 10%. You can improve your ROI and start growing your business.
Social Media Marketing
If you want to build brand awareness online, consider your social media marketing strategy. Social media can help you engage and inform your audience. Remember, informing your audience could help you build a demand.
Use social media to increase your online exposure. You'll build brand awareness and trust.
Then, direct consumers to your website to learn more but your product or service.
Consumer sharing user-generated content on social media, too. Consumers can share their experiences with your brand. You could pique interest with new customers while spreading the word about your business.
4. Measure Your Success
As you use these lead generation strategies, make sure to measure your success. Which strategies are helping you generate leads? Which posts are sparking an interest with your target audience?
Use your data to make more informed decisions in the future.
Make sure you define your key performance indicators, including:
Website traffic
Cost per lead
Free tool/trial signups
Customer acquisition cost
Lead magnet downloads
Tracking your KPIs will help you track your progress.
5. Request Help
You don't have to develop a demand generation marketing strategy alone. Consider working with a B2B demand generation agency. Their experience and expertise could help you build a stronger campaign.
They'll ensure you're using the right strategies to accomplish small business success.
Set for Success: 5 Demand Generation Strategies That Work
Using these demand generation strategies can help you build a want and need for your offerings. You can draw more people to your business and generate more high-quality leads. Make the most of your demand generation strategy with these tips today.
Want to achieve small business success? We're here to help.
Contact our team today to get started.